CME Micro E-mini futures fit seamlessly within our current product suite and give all traders a simple way to access the equity index futures markets. At 1/10th the size of a classic E-mini contract, Micro E-minis require less cash to enter the market with lower margins.
---
CME E-Micro Exchange-traded Futures contracts are available to trade starting Sunday Market Open: May 5, 2019 - 5pm Chicago (CST)
Micro E-mini S&P 500 futures
Micro E-mini Nasdaq-100 futures
Micro E-mini Dow futures
Micro E-mini Russell 2000 futures
AMP FLAT Pricing offer using any of our FREE Trading Platforms, such as MetaTrader 5, Sierra Chart, MultiCharts, TradingView, Jigsaw....

Exchange Fee $0.25
CQG Order Routing Fee $0.10
NFA $0.02
AMP Clearing Fee $0.05

Total per Side $0.42

Available on all 40+ different trading platforms. Please use the AMP Exact Cost Calculator to confirm the total all-in price for any platforms that charge any additional per contract platform fees: https://portal.ampclearing.com/account/commissionquote.aspx
Day Trade Margins: https://www.ampfutures.com/trading-info/margins/
Micro E-mini S&P 500 : MES = $40.00
Micro E-mini Nasdaq-100: MNQ = $100.00
Micro E-mini Dow: MYM = $50.00
Micro E-mini Russell 2000: M2K = $50.00
AMP Account Minimum to get started is only $100.
Example Current Front Month Contract(s) - March 2021
Micro E-mini S&P 500 : MESH21
Micro E-mini Nasdaq-100: MNQH21
Micro E-mini Dow: MYMH21
Micro E-mini Russell 2000: M2KH21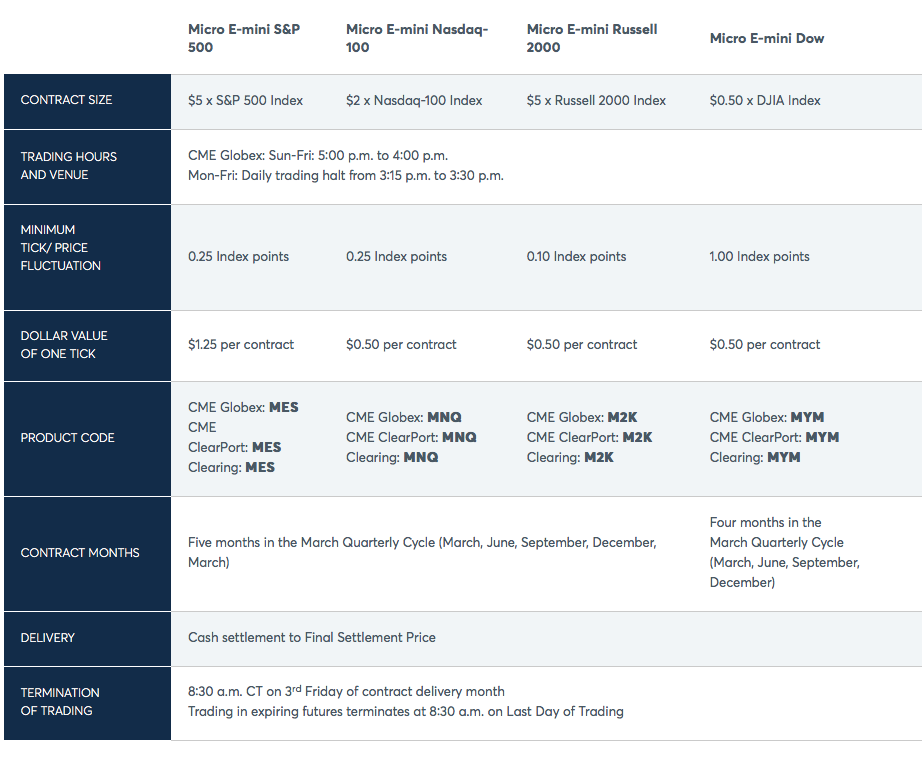 ---

We work as a 24 hour support team. Everyone is fully trained in all AMP platforms/services.

If you need any assistance, please contact our 24 hour help desk in real-time via Phone or Live CHAT: https://www.ampfutures.com/contact-us/
---